Bhutan talking stamps
From the series SC 152–152F, 5 mini flexidiscs, 1973, 18 x 54 cm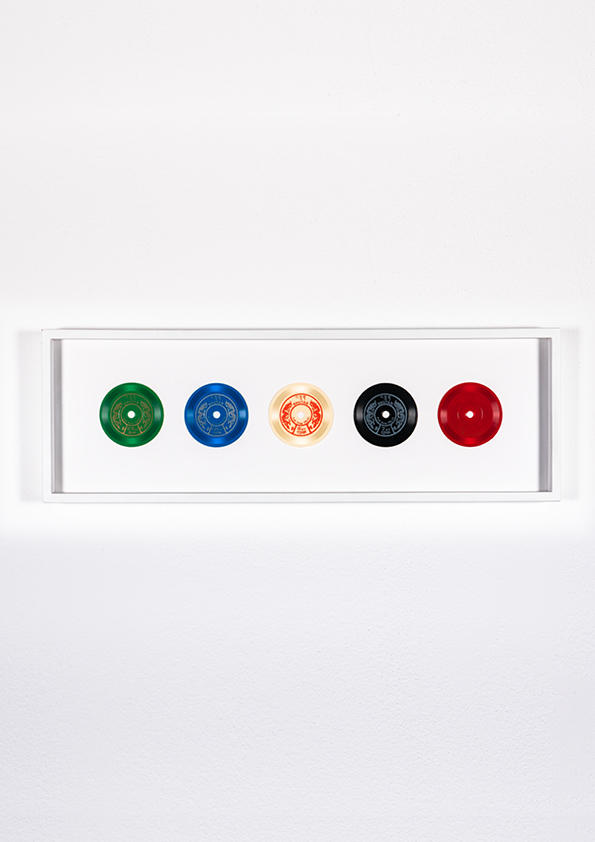 Issued as a set of seven in red, yellow, green, blue, purple, white and black and in various sizes, the talking stamps were in fact miniature phonograph records. Constructed of a normal adhesive back and a flexidisc-like front, the stamps featured audio recordings of folk songs, the Royal Bhutan Anthem, the history of Bhutan in Bhutanese and the history of Bhutan as told in English by Mr Burt Kerr Todd himself. In a voice straight out of a 1940s newsreel Todd reported on the geography, government and economics of the nation, describing the Bhutanese as "a strong and well-built race whose religion is Buddhism." He duly reported that "over 1,000 kilometers of roads criss-cross the country, there are one hundred schools and sixty post offices." Each stamp, which could be used both for national and international mail, came in a small envelope with the statement,
"This envelope contains your BHUTAN postage stamp. In order to develop a national economy, these unusual beautiful stamps are now the principal industry. Bhutan is a tiny 90 mi. kingdom high in the Himalayan mountains. This stamp, one of a series, is a collector's item."
Today, as when Todd first visited, Bhutan remains primarily agrarian. However, instead of an economic system sustained by stamps, close to 75% of the current economy is dependent upon the sale of hydro-electric power to India and, increasingly, a reliance on tourism.
– "Greetings from Bhutan," Alex Klein, Dot Dot Dot #13, 2006
Go back