Camouflaged Ship in Dry Dock
Edward Wadsworth, woodcut, 1918 (lithographic book proof, 1974), 51.2 x 41.2 cm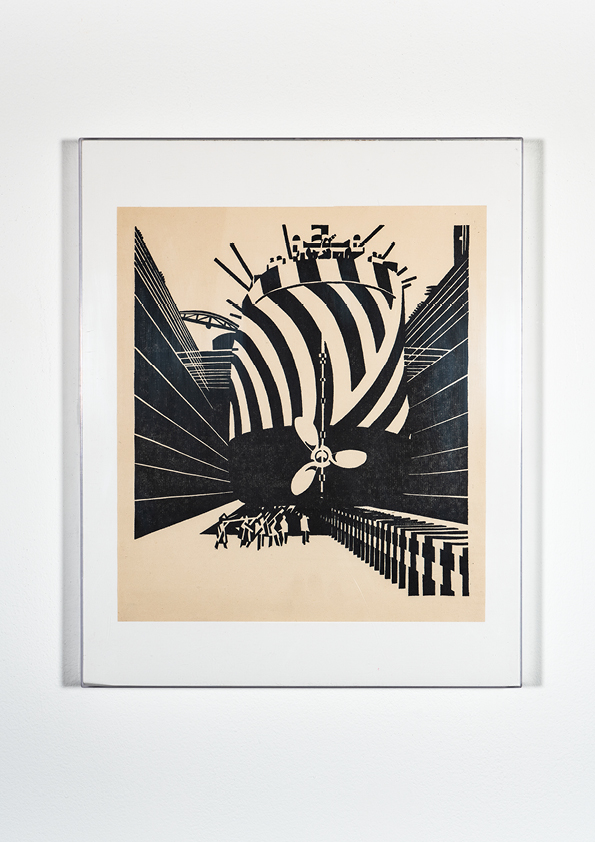 Now see this, dear reader, imagine the scene: 
Of a submarine hunting the sea. 
A brain and two eyes inside spy through a viewer, 
Thinks: down here, ze ships can't see me! 
All it takes is one look, and doing some sums 
Tells me where and how fast the ship's going. 
Launch a torpedo to meet when it comes,
In bitz the güt ship be a-blowing. 
But what if Heinrich was unable to fathom how 
A boat was a-coming or going? 
Ist starboard port when stern becomes bow? 
Mein Gott! Sums have no way of knowing.
The ship that he saw, yet did not, had been Dazzled. 
Camo-, but not, stalled his thinking. 
Two hundred + ships, painted starboard + port 
= Thousands were saved from a sinking. 
See — confusion has function before it is measured.
Brown cows lazy dogs in equation.
And what we can't fathom should therefore be treasured.
Look-stopping is good on occasion.
– "These Woodcuts Could Safe­guard a Nation!," Will Holder, Dot Dot Dot #9, 2004
Go back