Talking Heads' Speaking in Tongues LP with acetates
Robert Rauschenberg, printed acetate sheets and clear vinyl LP, 1983, 32.5 x 32.5 cm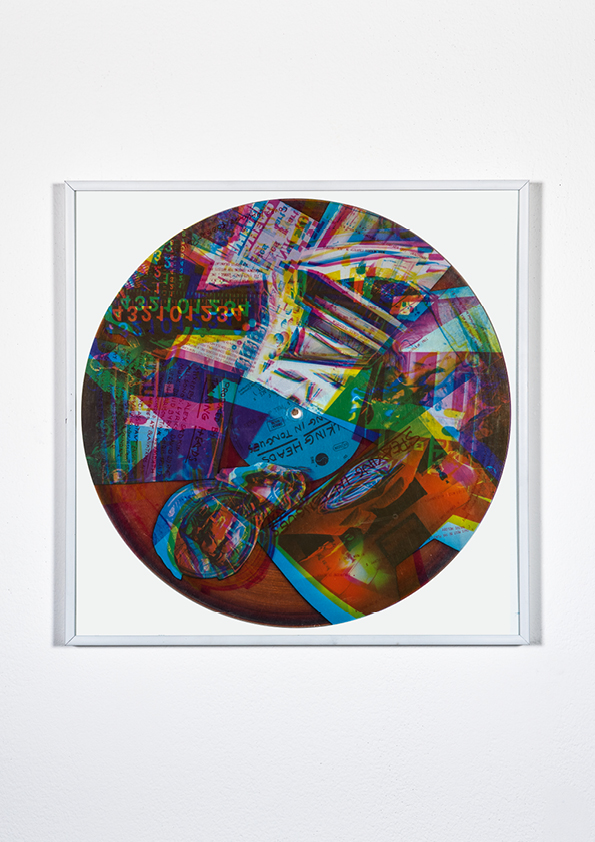 But how to evade the narrowing limitations of intentional style and logic, whether in songwriting or in design? The sleeve design for the Talking Heads album Speaking in Tongues contains some useful clues. The expression that David Byrne chose for the title of this album, "speaking in tongues" (from the Biblical story of Pentecost), indicates the "divinely inspired" jabbering by people in a religious trance. Anthropological research has shown that the utterances of people who are speaking in tongues are not, as conventional wisdom holds, related to their native language or even to their religious convictions. People are not made to speak in tongues by their religion, but the opposite is true: the speaking in tongues is caused by specific bodily changes, which in turn drive religious belief.
What kind of graphic design can illustrate these concepts? At Byrne's request, Robert Rauschenberg designed a cover: a circular collage of color photos, separated out into the process colors cyan-blue, magenta-red and yellow. The blue separation is printed on the back of a transparent record sleeve, the yellow on the front, and the magenta on a circle that has been added to the front and can be turned. The record itself is made of transparent vinyl. This creates a "dial-a-picture" system, since the photos on the red component have been shuffled, which means that a spectator has to turn this part of the sleeve in order to get a clear, full-color picture of a part of the collage. [...]
However, Rauschenberg's sleeve design for Speaking in Tongues turned out to be too complicated to be produced in the numbers that were needed for the entire edition of the million-selling album.
– "David Byrne: Getting the I out of Design," Sytze Steenstra, Dot Dot Dot #4, 2002
Go back