The Serving Library Annual 2018/19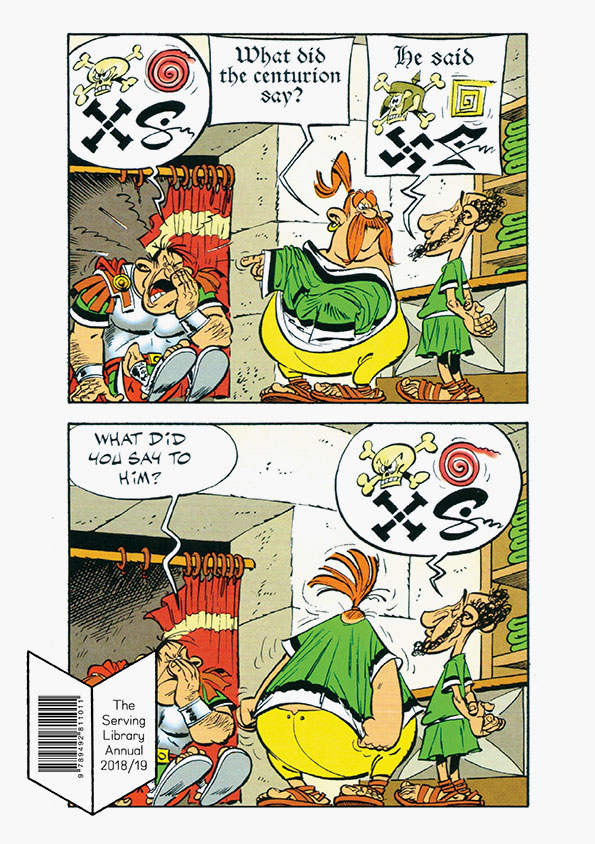 Twice a year since 2011, The Serving Library has assembled a set of individual "bulletins" on a common theme, made PDFs available to download for free at www.servinglibrary.org, and simultaneously published them in print as Bulletins of The Serving Library. Last fall we started to turn on a yearly cycle instead, uploading the new batch of files throughout September, and releasing a half-as-frequent-and-twice-as-big print edition in collaboration with Amsterdam-based
Roma Publications
.
This year's Annual is guest-edited by Italian novelist and translator Vincenzo Latronico and explores how translation is fast becoming a significant site for the negotiation of identities and power dynamics in an increasingly English-centered cultural scene. Departing from literature and the visual arts, the issue soon veers off into mathematics, music, architecture, and religion.
The Serving Library Annual 2018/19 includes contributions by Meehan Crist, Katrina Dodson, Lucile Dupraz, Claudia Durastanti, Joseph Grigely, Meg Miller, Minae Mizumura, the National Security Agency, Philip Ording, David Osbaldeston, David Reinfurt, Anna Della Subin, The Annotated Fall, and Emily Wilson.
Edited by Francesca Bertolotti-Bailey, Stuart Bertolotti-Bailey, Vincenzo Latronico, and David Reinfurt.
Go back