Bulletins of The Serving Library #8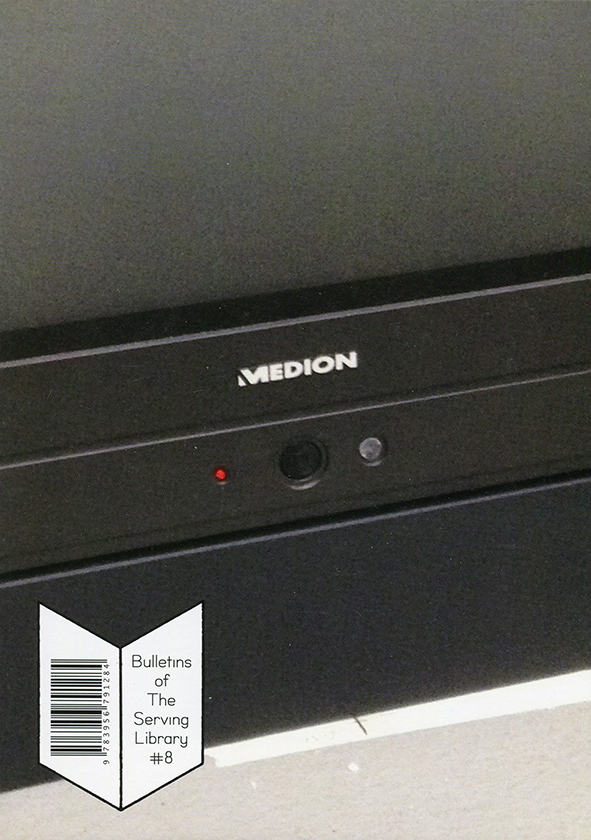 This issue is about MEDIUM and was produced on the occasion of Tate Liverpool's autumn 2014 season
Making Things Public
(7 November 2014–8 February 2015). The Serving Library's collection of artifacts was installed in the ground floor gallery with two related exhibitions upstairs:
Transmitting Andy Warhol
and the first UK solo exhibition by the American video artist Gretchen Bender (1951–2000). These exhibitions examined how different generations of artists have responded to and experimented with mass media to extend the possibilities of artistic practice.
Bulletins arrive from Larissa Harris, Ian Svenonius, Emily Gephart, Paul Elliman, Michael Bracewell, Eli Diner, Joe Scanlan, Lucy Mulroney, and Ben Davis.
In addition to our usual PDF and print formats, Bulletins in Issue #8 are also available as VIDEO, funneled through the form of a speaking asterisk. The asterisk's Scottish accent is synthesized from word fragments generously provided by Isla Leaver Yap, assembled into a voice software by Cereproc, Ltd., and coordinated by James Langdon. (You can read a good bit more about this
here
.) Videos are linked from each PDF download page,
for example
.
Go back