THE SERVING LIBRARY is established to develop and teach a foundational arts course.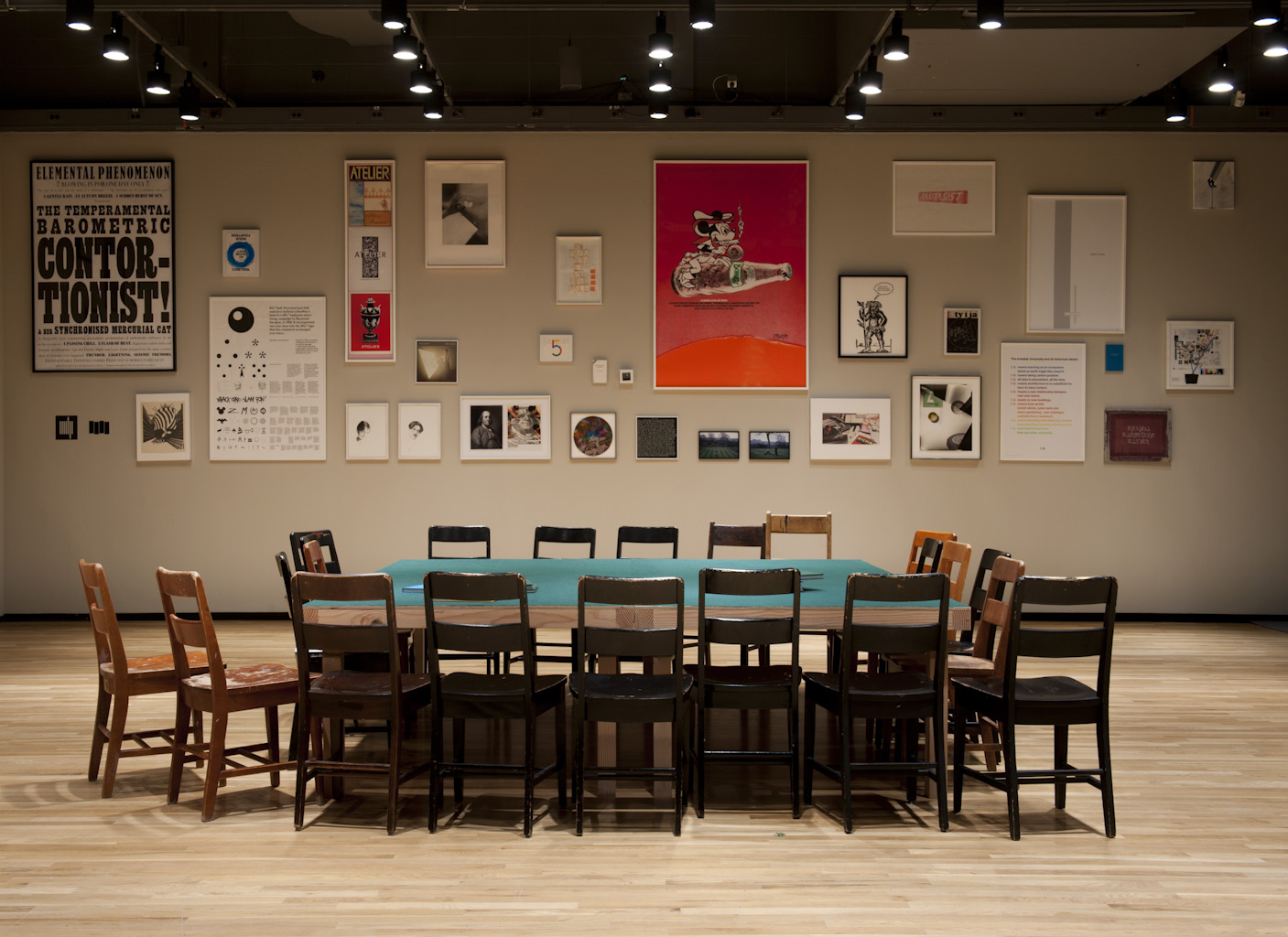 The individual bulletins on our website, compiled twice yearly as a printed journal, comprise course materials produced on a semester-basis, while the growing archive of related books and objects housed at our Liverpool location serves as a first-hand resource for class discussions and other public events.
Our curriculum unfolds in various ways, each suited to a different degree of public engagement: our walk-in archive of framed artifacts, all of which have appeared in prior issues of our current journal, Bulletins of The Serving Library, or its predecessor Dot Dot Dot (2000–2010), is open for visits during set weekly hours and by appointment; regularly scheduled public talks, screenings, and other events take place amidst this archive every three to four weeks, as announced on our web site; and we conduct seminars and workshops for students in collaboration with local, national, and international university-level schools within this same, physical context of our collections.
Our ongoing programs invoke particularly artistic points of view on a broad spectrum of subjects—the humanities, including art, design, writing, philosophy, and literature; as well as more literary renditions of mathematical and scientific ideas—according with the most recent and upcoming issues of Bulletins. Semester-long themes have included time, typography, psychedelia, numbers, color, and perspective, among others. Typically, a selection of bulletins are assigned for reading and class discussion, with selections from the backdrop of artifacts on the walls often entering into play as unusually telling and instructive counterpoints to the written materials.
As liberal education suffers the effects of relentless corporatization and sterilization, The Serving Library is determined to offer a space for teaching in which the environment itself is conducive to thinking and doing. Such programs are arranged according to each visiting group's specific interests and logistical considerations, from intensive week-long or multi-week courses and workshops for groups traveling from outside Liverpool, to single, day-long seminar meetings for groups who can more easily access The Serving Library from within the UK, to persistent, periodic attendance for local university groups.
For example, whereas a group of 16 graduate art students from The University of Geneva recently came to Liverpool for an intensive week of morning seminars and afternoon workshops, similarly-sized groups of students from the University of Leeds, the Royal College of Art, and Liverpool John Moores University will attend periodically during their upcoming semesters. We have also assembled one-day programs for itinerant groups such as London's Syllabus and Dusseldorf's Raumlaborberlin. In short, we are open to any productive arrangement.
All inquiries and proposals for future collaborations are most welcome. To discuss possibilities, contact stuart@servinglibrary.org
*
Our current and recent institutional collaborations:
Liverpool John Moores University
University of Liverpool
University of Leeds
Royal College of Art, London
St. Martins School of Art, London
Raumlaborberlin, Dusseldorf
Academy of Fine Arts, Nuremberg
The University of Reading
Piet Zwart Institute, Rotterdam
Dusseldorf Art Academy
University of Art and Design, Geneva
The Banff Centre

For a longer account of our ideas and ideals, see here.